Do you want your own logo on porcelain? Or your own design? You can create a personal porcelain that enhances the experience of your business, whether it is for a restaurant, office or other. Get in touch with an idea and we will help you create your own touch on our porcelain.

Image above: Lighthouse Interior have their own design on mugs and plates from Blocho.
How do you proceed?
Choose which products you are interested in and add them to the request cart.
Proceed from the request cart and a form will open.
Attach the logo or decor and describe how you want it to be placed. Suitable file format for logo is png.
Submit your request. We will get back to you with a price.
Do you need help choosing products?
Contct us at info@blocho.se and we will help you.
When ordering a new decor or logo:
1. Description of your wish
You send us a description that contains:
Which products the decor or logo should be placed on.
The amount of articles you would like to order.
A file that shows the decor or logo.
The size and location of the logo or decor.
Colour codes if you have – keep in mind that colour codes look different on porcelain and can never be exactly the same as on other materials.
Other things that are good for us to know.
2. Quotation
We will calculate a quote for you based on the information above.
You accept the offer by sending an order by email to order@blocho.se.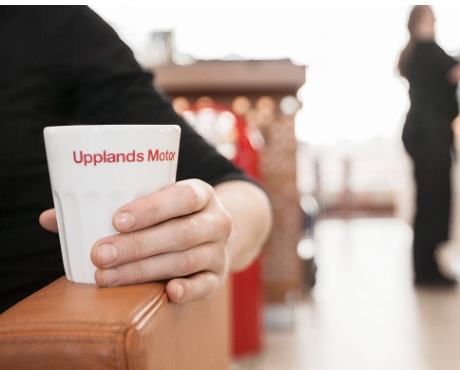 Image above: Upplands Motor has its logo on a mug from Blocho.
3. Sample
Once we have received your order, we prepare a physical or digital sample from the factory, depending on what you want, and which you need to approve by email before production starts. A sample from the factory takes about 2 weeks to recieve.
When you make an order, you pay 20 percent of the order value if you are a new customer.
4. Delivery
Once you have approved the sample, production starts!
What is possible?
Almost anything is possible. Describe your ideas in as much detail as possible and we will get back to you with some options.
How much do I need to order?
The minimum order volume for the first order is 500 items for each unique decor or logo.
You are free to order different sizes and different plates, mugs, bowls and more, as long as the total is at least 500 pieces.
For recurring orders of the same decor or logo, the minimum volume is 300 items.
What does it cost?
The price varies depending on the number of colors and the size of the decor or logo. Once you have decided which products you want and which logo or color you want, we will calculate a quote for you.
How long is the delivery time?
From start to finish, it takes about 8-10 weeks for a completely new decor or logo. If you then order more of the same, the delivery time is 6-8 weeks.
It takes 2 weeks to produce a sample of your decor or logo – then you must approve the sample.
Delivery time 6-8 weeks after you approved the sample.
To keep to the schedule, it is important that you have carefully thought through what you want and being as clear as possible from the beginning in your description. To make a sample in the factory, we need information about the logo and decor and an order from you, then it takes 2 weeks to get a sample. It is only when the sample is approved by you as a customer that delivery can be scheduled.
Remember!
The order is binding and we produce samples that match your description before production starts. If the sample is not approved or if you cancelling the order, you need to pay for sample costs and shipping of samples.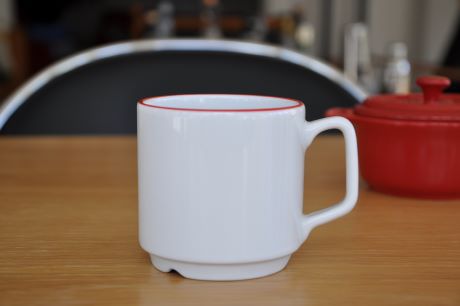 What is the colour of your company?
Image above: We have put a red border on our mug Robert.
Did not find the answer to your question?
Do not hesitate to contact us. We will help you.